Regular price
$718.00 USD
Regular price
Sale price
$718.00 USD
Unit price
per
Sale
Sold out
Share
Product Description

Stay and feel warm with our One-Of-A-Kind Hand stitched Kantha Quilt. One of our founding principles at Holistic Needle Craft is to create products that become not just a part of your life, but your life story, and therefore, we consider it not just our duty, but our privilege to create art quilts that you and your loved ones can enjoy for generations to come.
Our Art Quilts are completely hand-sewn and made from 100% organic certified cotton fabric 350 thread count to ensure the durability and made to last so that even grandkids will get to enjoy grandma's quilt. We use organic fabric that also ensures our quilts are comfortable, breathable, hypoallergenic, and free of harmful dyes and chemicals.
Inspired from multicultural traditional ethnic hand embroidery stitches around the world. This exquisite Hand sewn embroidered quilts make use of simple running stitches to create unique work of art. This is exceptional due to the richness of its theme, the number of motifs and the neat finish. These unique pieces are hand sewed 2 times on entire 4 layered fabric of 10,560 sq inches at different stages of quilting. Depending upon the complexity of stitches and size of the quilt, it takes about 200+ hours of dedicated handiwork to make one unique art quilt.
One-Of-A-Kind Art Quilt. For authenticity purposes one can see the sketching the grids, patterns and designs by pencils and feel the original stitch art.
Heritage craft, hand sewn, women led, sustainability, share the love.
Product fabric details

Fabric Information

  Thread count 350 GSM

 4 layers of organic certified cotton fabric. We did not use any Quilt batting instead cotton fabric yardage for layering has been used.

 Approx. 2.2 Kg

   96 x 110 inches

 Washed and ironed after finishing each quilt.

Note

As this is a hand crafted quilt, there may be a slight color variations. And also it is advisable to rewash one more time if you find any grids marks from drawing or pencil sketch marks in your quilt.
Product care

Product Care

1. Machine washable with cold water on delicate cycle only. Do not bleach, air dry to keep the softness.
2. Can be machine dry them with mild heat.
3. On tough stains you can use a mild liquid stain remover without bleach or optical brightener. Leave it to rest for 10 minutes without rubbing and wash in the washing machine.
4. Limit the amount of washing liquid (one teaspoon per quilt)-and always use detergents without bleach or optical.
Note

As this is a hand crafted product there may be a slight color variations.
View full details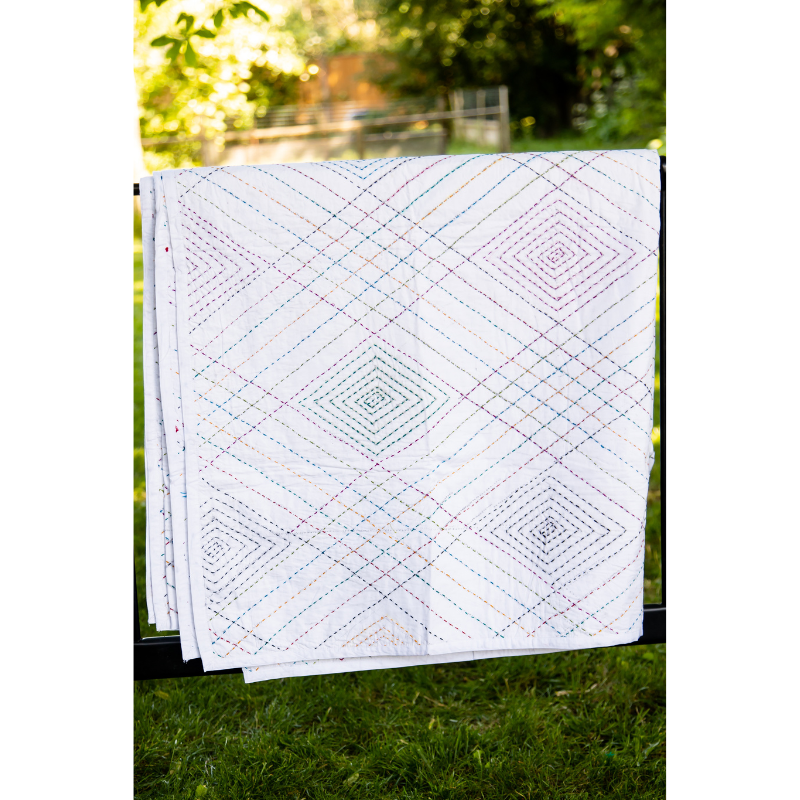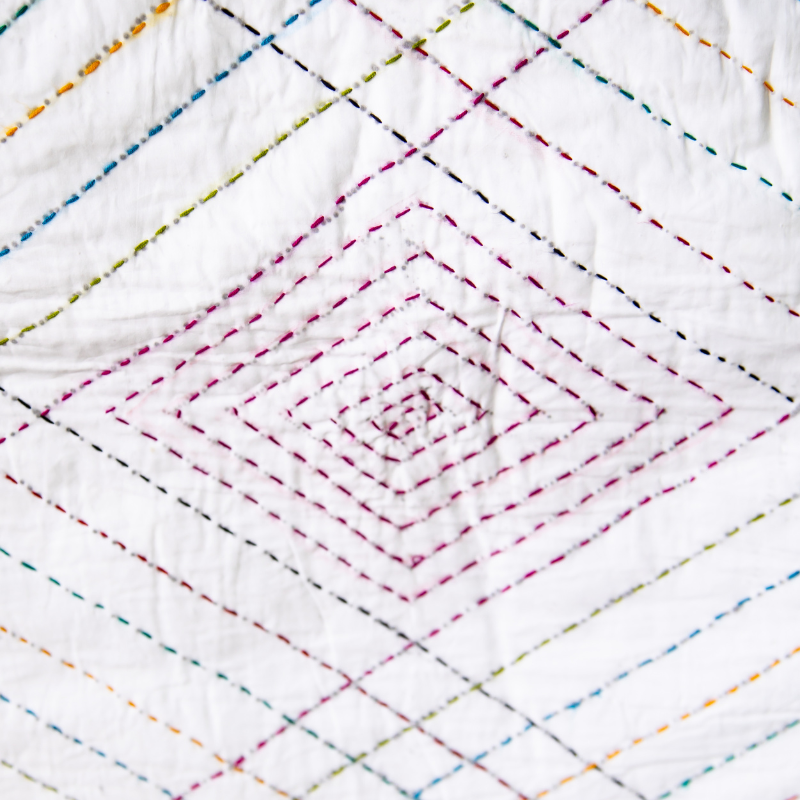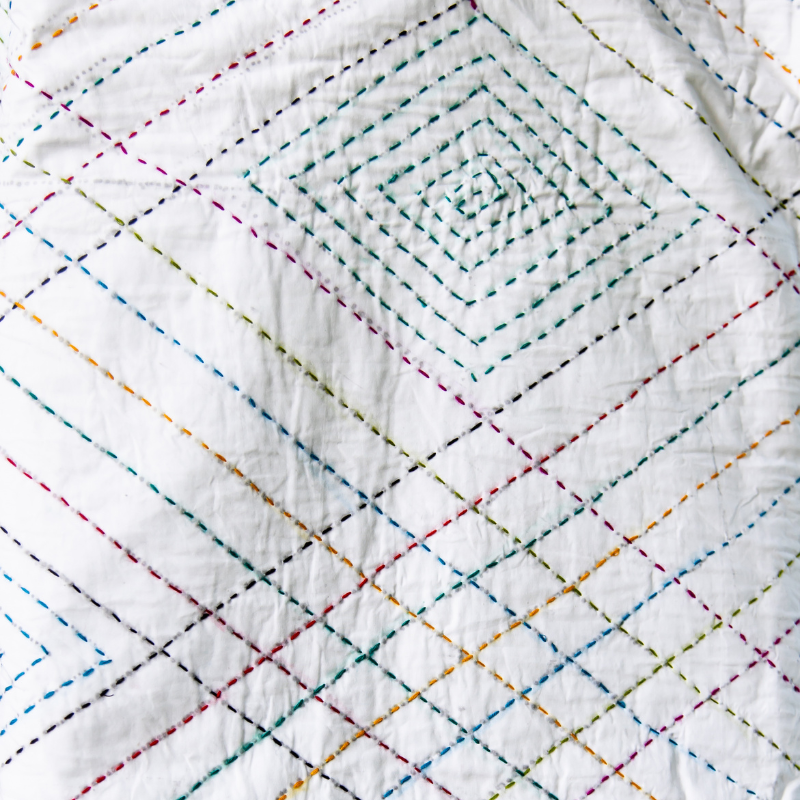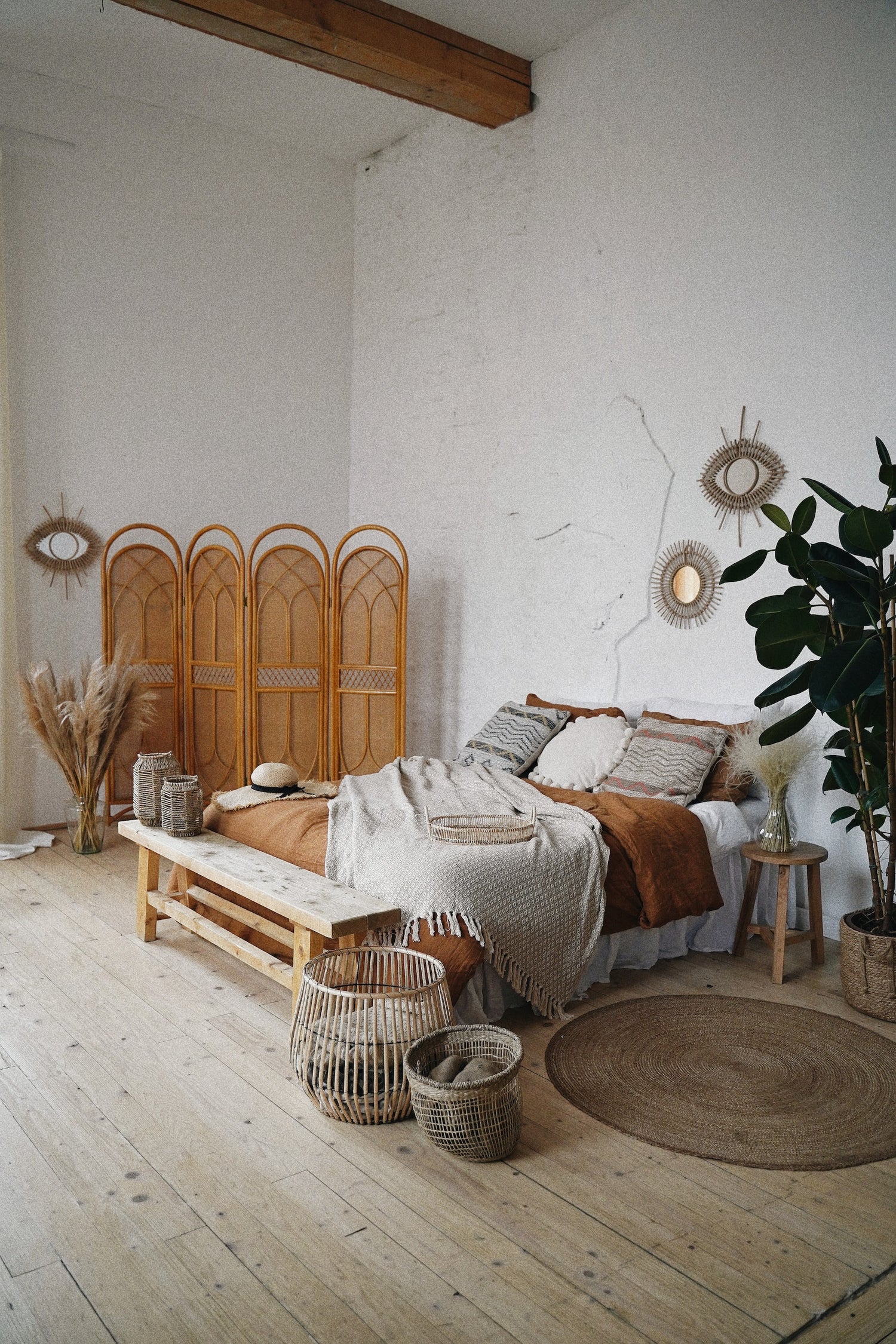 Holistic Needle Craft
At Holistic Needle Craft, we honor tradition and delight in the extraordinary. Our meticulously crafted and hand stitched sustainable lifestyle products serve one purpose: to elevate your every day and create homes filled with beauty, heritage, and meaning.
Shop All